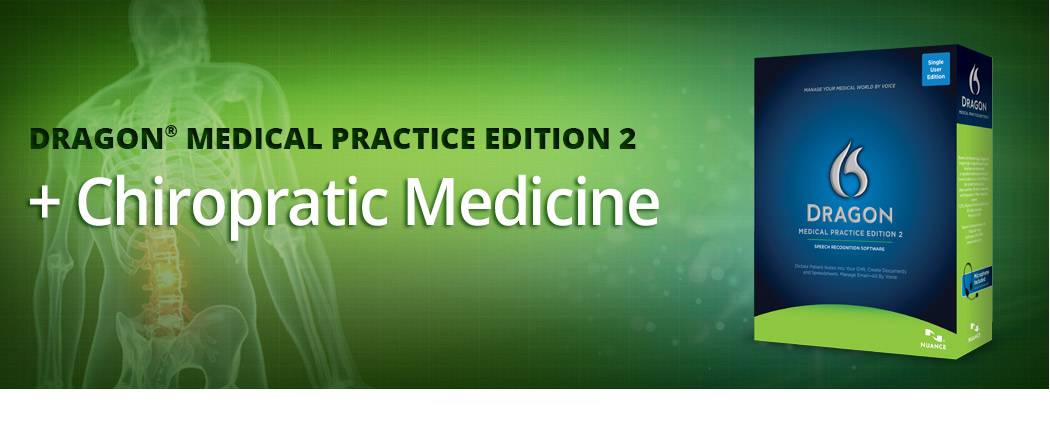 Great documentation comes in small practices.

Improve care efficiency.
Dragon Medical Practice Edition 2 offers virtually instant response time, saving clinicians valuable minutes in their day.

Reduce transcription and
the cost of documentation.
Eliminate as much as $12,000 in
annual transcription costs with
speech recognition technology.

Spend more time
with patients.
Increased accuracy means fewer errors to correct, which lets clinicians spend more time with patients, improving both quality of care and patient satisfaction.

Improve documentation.
Documentation with Dragon Medical speech recognition technology results in higher rates of reimbursement.

A Healthy Adjustment for Patient Documentation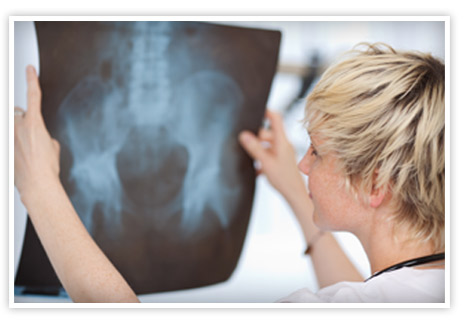 Want to stop typing the term subluxations? Now you can, with the help of Dragon® Medical Practice Edition 2. Dragon Medical speech recognition software includes over 90 specialty and subspecialty vocabularies, including Chiropractic Medicine, so you can speak in your own words to create accurate and complete patient records in a fraction of the time.
From prevention to diagnosis and treatment, Dragon Medical Practice Edition 2 understands the nuances of manual and manipulative therapy for spinal issues including disc and low back pain, rehabilitation of whiplash, and even more complex Neuro-musculoskeletal disorders. Put away your keyboard and start producing speech-to-text three times faster than typing.
You're just a few steps away from creating a more
efficient and rewarding practice.

Dragon Medical Practice Edition 2 gives Chiropractors the power to increase productivity, produce accurate patient records more quickly, and streamline the entire process of clinical documentation.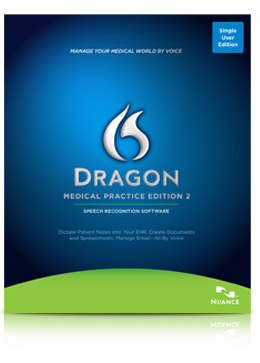 Dragon Medical Practice Edition 2
Dragon Medical Practice Edition 2 is more than 99% accurate and offers the most advanced speech recognition technology available for Chiropractors today.
Intuitive technology puts results on a progressive path while specialty vocabularies make patient documentation easy, fast, and thorough. View X-rays while dictating assessments; create a plan of care for patients with neck pain and headaches, and send emails, all by voice, to referring physicians.
Dragon Medical Practice Edition 2, the only speech recognition solution for Chiropractors.

Dragon Medical Practice Edition 2 Features

More Accurate Than Ever
In clinical settings, Dragon Medical Practice Edition 2 is over 20% more accurate than the previous version and — and over 60% more accurate than Dragon Professional 12 when used in clinical settings.

Medical Vocabularies
Covers nearly 90 specialties and subspecialties.

Recognition Speed
Dragon Medical Practice Edition improves recognition response time significantly.

Regional Accent Support
Accented speakers get higher "out-of-the-box" recognition with advanced adaptation techniques and accent-specific acoustic models.

EHR Support
Navigate and dictate inside EHR software: History of Present Illness, Review of Systems, and Assessment and Plan.

Hidden Mode
Dictate anywhere in the EHR, eliminating navigation between EHR screens and the notes window.